Affordable Housing in a Rural, Tourism-Based Community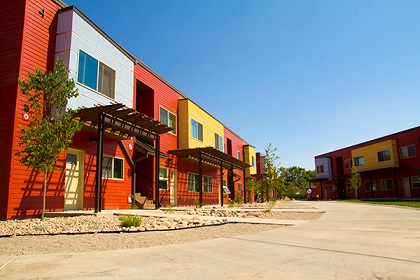 Cinema Court provides 60 affordable apartments in the resort community of Moab, Utah. Image courtesy of Bryan Bowen Architects, p.c. Moab, Utah is the gateway to some of the most iconic desert landscapes in the world. The famous red rock landscapes of Arches and Canyonlands National Parks, the region's major attractions, draw tourists and outdoor adventure enthusiasts from around the world. Moab's economy is largely tourism based, which has serious implications for affordable housing in the city.
Many of the service workers who help make Moab a memorable vacation experience do not earn enough money to afford adequate housing. More than one-third of Moab's workforce is employed in the relatively low-wage retail and arts/entertainment/recreation sectors. According to figures from the 2007–2011 American Community Survey, Moab's median household income is only $39,085, lower than in both the state and county as a whole, while its poverty rate is considerably higher. A 2009 affordable housing plan for Grand County, where Moab is located, and the city identified other factors contributing to the affordable housing shortage: the high cost of existing housing, external market demand (primarily second and seasonal homes, retirement homes, and general investment properties), and the condition of the housing inventory (a 2005 report found that 35 percent of all housing units in the county were in either dilapidated or unacceptable condition). It was with these conditions in mind that local and regional policymakers made the Cinema Court development a priority.
Cinema Court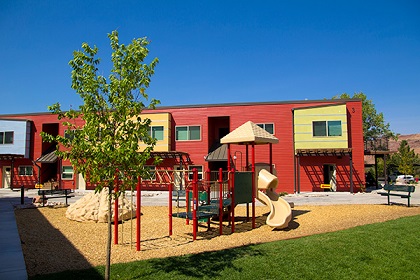 Cinema Court's 60 dwelling units are arranged around a central courtyard that includes a playground. Image courtesy of Bryan Bowen Architects, p.c. Located adjacent to a former drive-in movie theater, the Cinema Court site was purchased by the Housing Authority of Southeastern Utah (HASU) and was originally intended for single-family affordable housing. However, with the collapse of the housing market, construction costs for the houses would have exceeded appraised values, making this approach unfeasible. When foreclosure procedures began, the Utah Non Profit Housing Corporation (UNPHC) and Lotus Community Development Institute (LCDI) helped local and county officials put together a new financial package for the multifamily development that would become Cinema Court.
Cinema Court includes 60 apartments: 15 one-bedroom, 30 two-bedroom, and 15 three-bedroom units. The apartments are grouped in nine buildings facing a central courtyard complete with a playground for resident children. According to site designer and architect Bryan Bowen, the project benefits from reduced construction costs because the housing is attached and served by existing city infrastructure, including water, sewer, roadways, bike lanes, and multiuse paths.
The complex serves tenants with incomes up to 50 percent of the area median income (AMI). Rental rates depend on several factors, including household size, income, and unit size (table 1). Services and amenities for residents include wireless Internet access and classes on life skills, budgeting, and resume writing, many of which are offered in the complex's community building.
Table 1. Cinema Court Units by Size and Income Requirements
Unit Size
Number of Units
Target Income
1 bedroom
5
25% AMI
10
39% AMI
2 bedroom
30
45% AMI
3 bedroom
6
45% AMI
9
50% AMI
Environmental and Energy-Efficiency Features
Moab's desert location demands that developers pay particular attention to both conserving water and mitigating high temperatures, which can average in the mid- to upper 90s during the summer. Cinema Court's grounds are xeriscaped to minimize water consumption. Bioswales filter and channel stormwater before its released into an adjacent creek, mitigating damage to the creek habitat during storms. The units feature shared walls to reduce heat loss and gain and are insulated with recycled cellulose. Also contributing to a well-insulated building envelope are triple-pane windows made with low-emissivity glass. All appliances in the units are ENERGY STAR® rated. Parking is consolidated to reduce both impervious area and the heat island effect. Several large cottonwood trees were preserved to cool the site and buildings. Onsite manager Jazmine Duncan states that tenants have noticed that their current utility bills are lower than they were in their previous residences.
Project Funding
Financing for the $8.79 million project came from various sources, including local funds, a community development block grant (CDBG) loan via HASU, low-income housing tax credits (LIHTC), and the Olene Walker Housing Loan Fund, a state financing program for affordable housing (table 2).
Table 2: Funding for Cinema Court
| Source | Amount |
| --- | --- |
| Enterprise equity (LIHTC) | $7,416,000 |
| Olene Walker Housing Loan Fund | $850,000 |
| CDBG loan through HASU | $250,000 |
| Deferred developer fee | $214,000 |
| Energy rebates | $35,000 |
| City contribution | $25,000 |
Lessons for Rural Resort Communities
Marci Milligan, president and chief operating officer of LCDI and a consultant on the project, believes that Cinema Court offers several lessons for rural communities facing affordable housing challenges. One lesson is the importance of proactive planning. Because Moab had an up-to-date affordable housing plan, Moab received priority consideration for a low-interest loan from Utah's Olene Walker Housing Loan Fund, which Milligan states was critical to the project's success.
Another important lesson learned is the value of bringing in outside technical assistance. Rural communities such as Moab often do not have resident experts who can take on significant projects. In the case of Cinema Court, UNPHC helped the city navigate the myriad challenges involved in affordable housing development, particularly in securing funding, working with the architect, and managing the day-to-day operations of an affordable housing complex. Milligan emphasizes the importance of this partnership: "Most rural communities don't have the qualified staff or qualified agencies to do it alone anymore; so regionally partnering with larger entities is also one of the things . . . that made [the project] work. Those partners are harder to get but essential to do business anymore."
The development has proven popular, and Cinema Court's 60 units were quickly rented. But because the demand for quality, affordable units in Moab still outstrips supply, the city is planning other affordable housing projects. Cinema Court offers a template for future development efforts in Moab and in the many rural resort communities facing similar pressures and constraints. Although providing affordable housing in a tourism-based economy is challenging, Moab's experience with the development of Cinema Court proves that a small community need not let a lack of resources impede its affordable housing goals.