Annual Report to Congress 1991: Who Benefits? Civil Rights Data on HUD Program Applicants and Beneficiaries
Release Date:
August 1992 (27 pages)
Posted Date:
June 15, 2021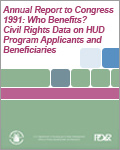 This historic publication is the third annual civil rights data report delivered by HUD to Congress, as mandated by the Fair Housing Act. The purpose of the publication is to provide the legislature and the public with regional and demographic information regarding the beneficiaries of the department's programs, in order to ensure that minorities are afforded equal access.

This report is part of the collection of scanned historical documents available to the public.