The Federal Fair Housing Enforcement Effort: A Report of the United States Commission on Civil Rights
Release Date:
March 1979 (265 pages)
Posted Date:
July 25, 2021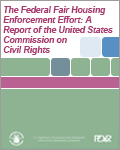 This historic report, delivered to Congress and the president, is an assessment of the activities of federal executive agencies to ensure fair housing. The report evaluates the efforts of the Department of Justice, Department of Housing and Urban Development, Federal Reserve Board, Comptroller of the Currency, Federal Deposit Insurance Corporation, Federal Home Loan Bank Board, Veterans Administration, Farmers Home Administration, Department of Defense, and General Services Administration to combat housing discrimination. The authors conclude that the federal government lacks a comprehensive strategy to secure fair housing.

This report is part of the collection of scanned historical documents available to the public.