Housing Affordability Through Design Efficiency Program
Release Date:
June 1997 (83 pages)
Posted Date:
February 10, 2021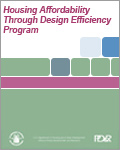 This historic study assesses the design, construction, and economic implications of model building codes and standards when applied to simple and complex wood-framed houses in a range of circumstances. The study considers two basic construction approaches, a simple prescriptive approach and a more complex engineered method, and examines house designs with various applications. The cumulative result of these investigations is an evaluation of building codes that considers safety, affordability, durability, and resource utilization.

This report is part of the collection of scanned historical documents available to the public.