Housing Choices and Residential Mobility in Site I at Baseline
Release Date:
August 1976 (87 pages)
Posted Date:
April 29, 2021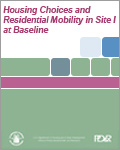 This historic working note reports the findings of a survey of Brown County, Wisconsin households conducted during the Housing Assistance Supply Experiment (HASE). The researchers analyze the responses of the 3,722 surveyed households to determine the relationship between a household's compositional characteristics and its choice of housing. HASE, which was conducted in Brown County, Wisconsin (Site I) and St. Joseph, Indiana (Site II) was the second phase of HUD's Experimental Housing Allowance Program.

This report is part of the collection of scanned historical documents available to the public.