Housing Discrimination Study: Synthesis
Release Date:
August 1991 (79 pages)
Posted Date:
July 1, 2021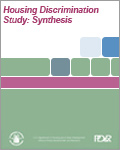 This historic publication is a summary of the findings from the Housing Discrimination Study which was sponsored by the Department of Housing and Urban Development's Office of Policy Development and Research and conducted by The Urban Institute and Syracuse University. The report is based on 3,800 fair housing audits conducted in 25 metropolitan areas during the late spring and early summer of 1989.

This report is part of the collection of scanned historical documents available to the public.