How Housing Allowances Affect Housing Prices
Release Date:
September 1979 (58 pages)
Posted Date:
April 29, 2021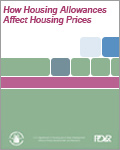 This historic report analyses the impact that the Housing Assistance Supply Experiment (HASE) housing allowance program had upon the local housing markets of Brown County, Wisconsin and St. Joseph County, Indiana. Using HASE program records and annual rental housing market surveys, the researchers determine that the presence of households receiving housing allowances did not significantly increase housing prices — despite the fact that, at times, enrollment exceeded 20 percent of renter households. HASE was the second component of HUD's Experimental Housing Allowance Program.

This report is part of the collection of scanned historical documents available to the public.