Market Intermediaries and Indirect Suppliers: First Year Report for Site II
Release Date:
August 1977 (78 pages)
Posted Date:
April 29, 2021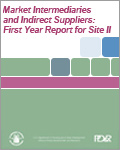 This historic working note describes the activities and attitudes of three types of market intermediaries — mortgage lenders, real estate brokers, and home repair contractors — in St. Joseph County, Indiana during the first year of HUD's Housing Assistance Supply Experiment. HASE, an experimental program to test the market impact of providing housing allowances to low-income households with domiciles meeting minimum standards of decency, was the second component of HUD's Experimental Housing Allowance Program.

This report is part of the collection of scanned historical documents available to the public.