Promise Zones: Initial Implementation Assessment Report February 2019
Release Date:
February 2019 (40 pages)
Posted Date:
April 12, 2021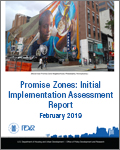 In summer 2018, researchers from the U.S. Department of Housing and Urban Development's (HUD) Policy Development and Research (PD&R) division conducted a rapid turn-around implementation assessment that examined the initial set-up, execution, and resultant program structure of the first round of the three urban Promise Zones sites. The objectives of the assessment were to understand the Promise Zone sites' initial efforts to attract federal, state, and local resources; how resources available to designees were utilized; and the perceptions of local partners concerning what is working and what can be improved. The research team reviewed program documents, conducted interviews with HUD Headquarters staff past and present, and completed site visits to the Promise Zones in Los Angeles, San Antonio, and Philadelphia.