Revenue and Expense Accounts for Rental Properties – Housing Assistance Supply Experiment
Release Date:
March 1982 (367 pages)
Posted Date:
January 21, 2021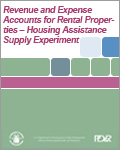 This historic note presents financial data collected from rental property owners and occupants participating in the Housing Assistance Supply Experiment in Brown County, Wisconsin from 1973 - 1976 and St. Joseph County, Indiana from 1974 - 1977. The Housing Assistance Supply Experiment was a 10-year research experiment conducted by the Rand Corporation on behalf of HUD in the housing markets of Green Bay, Wisconsin and South Bend, Indiana, during which low-income households were provided with monthly cash payments in order to offset their housing costs.

This report is part of the collection of scanned historical documents available to the public.