The Second Generation Of Jobs-Plus Programs: Implementation Lessons from San Antonio and the Bronx
Release Date:
October 2015 (155 pages)
Posted Date:
November 10, 2016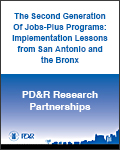 The report includes findings on the process, methods and organizational approach used in the implementation of the Jobs Plus work incentive and services program at two public housing authorities (San Antonio and New York City) using a Social Innovation Fund (SIF) grant. While the report does not include outcome effects for assisted housing residents, it does include findings on the very limited take-up rate of Earned Income Disregard (EID) incentives, pointing to a major obstacle to the overall potential success of the initiative at these two sites. The EID reached only approximately 1 percent of working-age adults in the Bronx and 3 percent in San Antonio.