HUD's Jobs Plus Pilot Program for Public Housing Residents: Ongoing Implementation Experiences
Release Date:
November 2019 (163 pages)
Posted Date:
December 6, 2019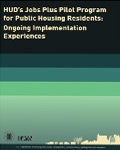 The HUD Jobs Plus Program seeks to increase public housing residents' earnings and employment outcomes. The model has three core components: (1) Employment-related services, (2) Jobs Plus Earned Income Disregard, and (3) Community Supports for Work.
This process study documents the implementation lessons and challenges experienced by the nine public housing agencies that received Jobs Plus grants in FY 2015. The report examines the program's implementation through a little beyond halfway into the four-year grants (April, 2015 through early 2018). It describes the activities and partnerships of the grantees and the extent to which sites are successfully implementing the program. The report shows that PHAs are able to implement this ambitious program and describes some of the problems that sites faced and how they and HUD dealt with them.
Click here for Scaling Up a Place-Based Employment Program: Highlights From the Jobs Plus Pilot Program Evaluation report