BEST PRACTICES IN TRIBAL HOUSING: CASE STUDIES 2013
Release Date:
October 2014 (71 pages)
Posted Date:
November 18, 2014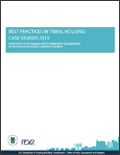 It is with great enthusiasm that we present the exemplary tribal housing documented here, as part of the Case Studies 2013 project by the Sustainable Native Communities Collaborative. These case studies are foundational to our multiyear effort to research and share the exciting work that tribes are undertaking across the country. The 17 projects featured are not intended to represent all of the green building occurring across Indian Country, but rather to exemplify an emerging transformation in tribal housing. Once again, tribal housing projects are increasingly connected to heritage, culture, and nature.