Amendments Regarding Condemnation Of Insanitary Buildings
Release Date:
August 1965 (6 pages)
Posted Date:
February 21, 2018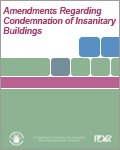 This publication is a 1965 record of amendments pertaining to the condemnation of blighted or abandoned buildings in the District of Columbia. The report was submitted to Congress by the Committee on the District of Columbia, in conjunction with H.R. 1778, a bill to amend the 1906 act titled "An act to create a Board for the Condemnation of Insanitary Buildings in the District of Columbia, and for other purposes."

This report is part of the collection of scanned historical documents available to the public.