Public and Indian Housing Development and Modernization Fund Requisition and Financing Handbook
Release Date:
May 1990 (812 pages)
Posted Date:
March 5, 2020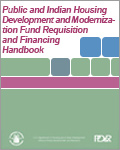 This manual describes the policies and procedures governing the requisition of development and modernization funds by public and Indian housing authorities under the Rapid Housing Payment System. The publication was developed for the use of program participants and departmental staff.

This report is part of the collection of scanned historical documents available to the public.