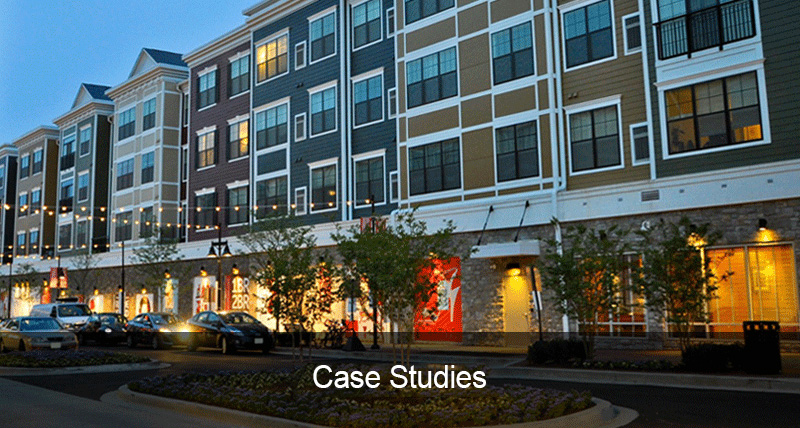 Home > Case Studies > Richmond, Virginia: Supporting Mixed-Income Neighborhoods
Richmond, Virginia: Supporting Mixed-Income Neighborhoods
The transformation of a historic mill and lumber yard is furthering revitalization efforts in Richmond's historic Church Hill neighborhood. Completed in multiple phases, the Beckstoffer's Mill redevelopment includes 22 mixed-income apartments adjacent to 39 affordable units for seniors aged 55 and older. The project includes one of the first affordable senior developments in the country built to achieve net-zero energy performance. The adaptive reuse of the mill building was a finalist for the Urban Land Institute's 2012 Jack Kemp Workforce Housing Models of Excellence Awards, which recognize exemplary and creative developments that expand workforce housing across the United States.
Background and Context
Dating to the early 19th century and located on Richmond's east side, Church Hill is one of the city's first neighborhoods and is adjacent to the city's original grid.1 Just over a mile from downtown, the neighborhood primarily consists of single-family residential buildings dating from the end of the 19th and early 20th centuries. Like many older urban neighborhoods, Church Hill suffered from decline and disinvestment with the growth of Richmond's suburbs following World War II. By the late 1990s, parts of the formerly middle-class, African-American neighborhood had poverty rates exceeding 40 percent. Vacant lots and abandoned buildings eroded the quality of the built environment and presented barriers to neighborhood improvements.2
Many of Church Hill's homes were in poor and deteriorating condition when the Better Housing Coalition (BHC), in partnership with the New Vision Civic League, began rehabilitation and new construction projects in the early 1990s. These efforts focused on creating homeownership opportunities and increasing the amount of quality rental housing in the neighborhood. To date, BHC has improved more than 150 homes in Church Hill.3 Much of this work has been done in conjunction with the city's Neighborhoods in Bloom (NiB) program, which has invested Community Development Block Grant and HOME Investment Partnerships funding — together with nonprofit investment — into revitalizing Church Hill and six other Richmond neighborhoods.4
These strategic investments played an important role in improving the quality of homes in Church Hill, attracting a more diverse population and positioning the neighborhood for future investment. In 2008, BHC acquired three acres consisting of the mill site and a vacant parcel across the street. The acquisition, including the mill and lumber buildings on the site, provided BHC with an opportunity to increase affordable and workforce housing opportunities in Church Hill.5
Mixed-Income, Age Inclusive, Sustainable Housing
Phase I of the Beckstoffer's Mill redevelopment involved transforming four mill buildings totaling 21,000 square feet into 22 one-bedroom apartments. In repurposing the buildings, many of the original elements were preserved. The units include 8- to 15-foot ceilings, skylights that originally lighted mill equipment, and exposed brick walls and wood beams. One building features six loft-style units, and the other 16 units are single-story, garden-style apartments of varying size, including two accessible apartments. Seven of the units are affordable to households earning up to 80 percent of the area median income (AMI), 4 are affordable to households earning up to 120 percent of AMI, and the remaining 11 units have no income restriction. The renovations comply with EarthCraft standards, and each apartment features high-performance heating and cooling systems and ENERGY STAR®- rated appliances. These upgrades, along with blown cellulose insulation to improve the building envelope, make the buildings 15 percent more efficient than a comparable building meeting standard code requirements.
In Phase II, BHC constructed 39 units of affordable housing for residents over age 55. The smaller of the two buildings is one of the first affordable housing developments in Virginia to be constructed in accordance with net-zero energy standards. The seven-unit building is designed to produce more energy than it consumes. A metering system tracks energy use versus onsite production from 71 photovoltaic panels and 6 solar thermal panels for hot water heating. The building reduces energy demands with structurally insulated sheathing, and a mini-split ductless system efficiently heats and cools each apartment. The sheathing provides a moisture barrier, insulation, and structural support in one building component, and the mini-split system prevents energy losses associated with duct work.
Many of the green building technologies in the net-zero structure are also featured in the 3-story, 32-unit building across the street, which has 135 rooftop solar panels. That building will not meet net-zero energy standards because the number of residential units outstrips the panels' generating capacity. The panels will supply electricity for the building's common area. Nevertheless, both buildings in the second phase are built to achieve EarthCraft's most rigorous certification, Tier III. Rents for the 29 one-bedroom and 10 two-bedroom apartments will be affordable to senior households earning up to 50 percent of AMI.
Financing
Financing for the first two phases of the Beckstoffer's redevelopment came from various sources that reflect BHC's goals of creating a sustainable, mixed-income development. The adaptive reuse of the mill cost approximately $4.2 million and included $1.3 million in state and federal historic tax credit equity, $500,000 in Community Development Block Grant funds, and more than $1 million in grants and owner equity, including a $950,000 loan from the Local Initiatives Support Coalition that allowed BHC to acquire the mill and adjacent property. Phase II's $6.3 million financing included a combination of low-income housing tax credits, loans and grants from the Virginia Housing and Development Authority, HOME Investment Partnerships funds, and renewable energy tax credits.
Conclusion
The Beckstoffer's Mill redevelopment is the most recent example of BHC's efforts to help revitalize the Church Hill neighborhood by providing high-quality housing opportunities for a range of income and age groups. The third and final phase of the project will continue this approach with mixed-income townhomes on the remaining undeveloped portion of the site. Through the NiB program, the city will continue to leverage investments that create affordable homeownership opportunities and spur additional neighborhood improvements. Since NiB's inception in the early 2000s, the Church Hill census tract where Beckstoffer's Mill is located has seen the percentage of residents living in poverty decrease by nearly 10 percentage points. Mixed-income housing and neighborhood revitalization strategies such as those seen in Richmond's historic Church Hill are increasingly seen as important tools in addressing the longstanding challenges associated with concentrated urban poverty.
---
United States Department of the Interior, National Park Service. 1996. National Register of Historic Places Nomination Form, Church Hill North Historic District. Section 8, 26–8.

U.S. Bureau of the Census, Census 2000, Summary File 3.

Interview with Bob Newman, vice president, Better Housing Coalition, 18 July 2013.

Ibid; John Accordino, George Galster, and Peter Tatian. 2005. "The Impacts of Targeted Public and Nonprofit Investment on Neighborhood Development," Community Affairs Office of the Federal Reserve Bank of Richmond.

Interview with Bob Newman.