Utility Cost Estimation Model Development and Decisions for the 2015 American Housing Survey and Beyond
Release Date:
August 2017 (53 pages)
Posted Date:
August 7, 2017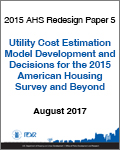 Part of the 2015 American Housing Survey (AHS) Redesign Series, this paper summarizes research on utility cost estimation conducted by PD&R and the U.S. Census Bureau considered for implementation in the 2015 AHS. Prior to 2015, AHS utility costs models included billing data for up to four months. In an effort to reduce respondent burden while maintaining data quality, the effects of modeling without utility bills by incorporating climate data and other variables on utility cost estimates were analyzed. Effects of the new model estimates on housing cost burden, the decision to adopt models for the 2015 AHS, and areas of future research for the 2017 AHS are discussed.