Housing Choice Voucher Program Administrative Fee Study: Final Report Executive Summary
Release Date:
April 2015 (18 pages)
Posted Date:
April 8, 2015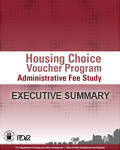 The Housing Choice Voucher (HCV) program is the federal government's largest low-income housing assistance program, serving approximately 2.1 million households nationwide. The HCV program is administered nationally by the U.S. Department of Housing and Urban Development (HUD) and locally by approximately 2,300 local, regional, and state agencies, referred to collectively as public housing agencies (PHAs). The federal government provides funding for the HCV program. The funding that PHAs receive for running the HCV program includes the housing subsidy itself plus administrative fees to cover the costs of operating the program.
Click here to access the final report