Partnering with Philanthropy for Community Impact, An Interview With Natalie Robles
A new report from HUD's Office of Economic Resilience and Office for International and Philanthropic Innovation, Scaling Solutions: Unleashing the Potential of Public-Philanthropic Partnerships, examines the role philanthropy played in HUD's Sustainable Communities Initiative (SCI).
SCI was a conscious and dramatic shift toward a collaborative, "place-based" approach to partnering. Notably, philanthropy, working closely with the federal government, local governments, and community partners, contributed significantly to the success of the initiative.
Based on 48 interviews with SCI grantees and their partners, Scaling Solutions serves as a playbook for activating cross-sector partnerships and improving collaboration within place-based initiatives. Natalie Robles, a communications specialist in the Office of Economic Resilience, led the creation of the report. Below, she shares some insights into how organizations might use the report's findings to enhance their own partnerships.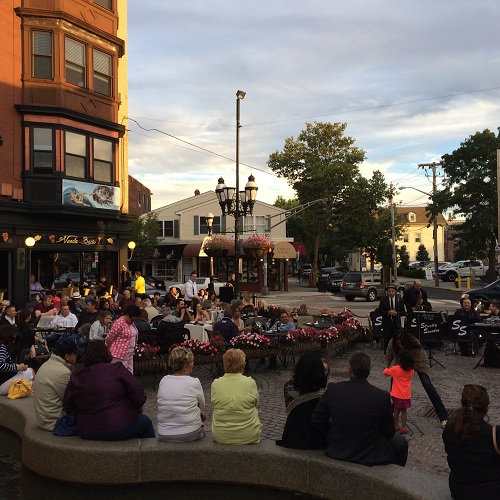 Rhode Island's HUD grant brought government, philanthropy, and the private sector together to preserve and support the cultural assets that made Rhode Island an attraction for residents, tourists, and businesses alike. Credit: Rhode Island Division of Planning.
In what ways was SCI a shift in how the federal government typically engages with philanthropy and local partners?
With the advent of SCI's place-based approach, the federal government signaled that it was open to a different way of doing business. SCI promoted the innovative community development practices that philanthropy was already supporting at the local level. To take advantage of the expertise of these philanthropies, the federal government created mechanisms for philanthropic partners to share their perspective and contribute to the design the program. This type of early engagement set the stage for continued public-philanthropic coordination throughout the initiative.
What is your advice for local leaders seeking to engage philanthropy through a place-based approach?
Local leaders have a lot of power to shape the environment in a way that allows cutting-edge projects and unique place-based approaches to succeed. They can commit public resources, which can be leveraged as "first loss" or risk insurance capital to catalyze even more private investment. They can streamline planning or development processes, eliminating redundant or conflicting requirements and coordinating different government agencies or departments. They can also make policy and regulatory changes that facilitate place-based projects (such as zoning changes).
Local government partners sometimes wait to engage philanthropy until a solid plan is in place, but it can be incredibly valuable to include philanthropies early in the design process, both to build trust and a working relationship as well as to benefit from their unique perspective and input. Although philanthropic dollars can be a great asset to the work, rarely do successful partnerships begin by focusing on a financial investment. Rather, many organizations have found that some of the nonfinancial benefits of partnering with philanthropies have been the most valuable.
It's also important to do the research ahead of time to make sure you understand the philanthropic organization's goals, priorities, investments, and strategies. Some foundations target a specific geographical area or a specific issue area. It may be useful to understand the different types of private foundations. Likewise, local organizations should be clear about their own priorities, strategies, and limitations. Partners value transparency, and taking time to explain public processes, current capacity, knowledge gaps, and intended outcomes can greatly help with aligning the partners and accelerating joint action.
How has the federal government expanded on SCI's model of collaboration? Are new examples of public-philanthropic partnerships emerging?
Since the implementation of SCI, federal agencies have launched other place-based initiatives. Many of these initiatives have leveraged philanthropic partnerships and encouraged philanthropy to be at the table as a crucial voice for community change.
For example, the Strong Cities, Strong Communities (SC2) Initiative has been a great vehicle for moving the model of increased engagement with philanthropy at the federal level into the field. In Gary, Indiana, the SC2 team worked closely with the city of Gary and the Legacy Foundation to mount coordinated capacity-building and investment programs, and the Legacy Foundation was honored with the Secretary's Award for Public-Philanthropic Partnerships for this work in 2014.
The Promise Zone initiative has also activated philanthropic relationships. The West Philadelphia Promise Zone is working closely with Philanthropy Network Greater Philadelphia to establish a Funders Committee to regularly engage philanthropy in the development of Promise Zone activities. Philanthropy has been instrumental in the Promise Zone effort in Los Angeles, which is now the only city in the nation with two designated Promise Zones. The philanthropic community in Los Angeles has provided crucial capacity that has allowed the city's Promise Zone partners to be competitive for federal funding.
What resources exist for federal staff working on place-based initiatives who are interested in advancing public-philanthropic partnerships?
Several federal agencies now have strategic partnership offices that help nurture relationships between government and philanthropies.
At HUD, the Office for International and Philanthropic Innovation spearheads the agency's relationships with philanthropic partners. The office provides a variety of tools and support for creating and maximizing public-philanthropic partnerships. HUD and philanthropies convene to share information, discuss challenges, align goals and strategies, and take joint action. One recent outcome of this work is the partnership with the Rockefeller Foundation to address disaster resilience in communities recently affected by natural disasters.
Interested in learning more about partnerships with philanthropy? Read the full report here.