Assessment of the Comprehensive Grant Program – Volume II: Case Studies
Release Date:
June 1996 (485 pages)
Posted Date:
June 15, 2021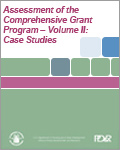 This historic report, part two of two, is an evaluation of the Comprehensive Grant Program, a HUD program adopted in 1992 to fund the modernization of large public and Indian housing authorities. The authors selected 3 Indian Housing Authorities and 15 Public Housing Authorities and evaluated their use of the program, opinion regarding distribution of funds, and modernization outcomes.

This report is part of the collection of scanned historical documents available to the public.