Emergency Relief in Flood-Stricken Areas
Release Date:
July 1951 (25 pages)
Posted Date:
July 9, 2020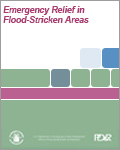 This historic document is a record of the July 1951 hearings of the Subcommittee on Deficiencies and Army Civil Functions of the U.S. House of Representatives' Committee on Appropriations. These proceedings address the issue of emergency flood relief for areas of Nebraska, Kansas, Missouri, and Oklahoma.

This report is part of the collection of scanned historical documents available to the public.