Facts About Housing Credit Controls: 1- through 4-family residences
Release Date:
January 1951 (6 pages)
Posted Date:
December 31, 2020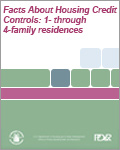 This brief, 6-page historic pamphlet explains restrictions placed on government-aided real estate loans after the outbreak of the Korean War in 1950. The document describes the restrictions, who may be impacted, exemptions, and other relevant information.

This report is part of the collection of scanned historical documents available to the public.