Housing In The 1980s Review Of Alternative Forecasts
Release Date:
July 1983 (43 pages)
Posted Date:
February 21, 2018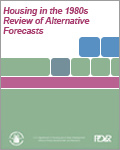 This historical working paper, prepared as part of the Housing Futures Program of the Joint Center for Urban Studies of MIT and Harvard University, presents a forecast of U.S. housing market trends in the 1980s. The publication discusses trends in household formation, housing construction activity, and demographic changes.

This report is part of the collection of scanned historical documents available to the public.