Housing Design and Construction: An Analysis of War and Pre-war Experience, Book III
Release Date:
November 1944 (492 pages)
Posted Date:
April 10, 2018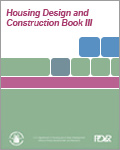 This document is Appendix Two of a report produced by the Technical Division of the National Housing Agency. The report reviewed wartime housing production undertaken in order to determine if standards and design, new materials, or construction methods used in war production might be applicable to the post-war production of housing. This document is part three of three.

This report is part of the collection of scanned historical documents available to the public.