Partners in Self-Sufficiency Guidebook
Release Date:
August 1988 (104 pages)
Posted Date:
February 3, 2021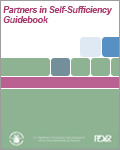 This historic guidebook is aimed at service-providers seeking to establish a public-private partnership to help welfare recipients attain economic self-sufficiency with a method based off of HUD's Project Self-Sufficiency demonstrations. Project Self-Sufficiency was a welfare reform experiment launched in 1984 and tested in 155 communities.

This report is part of the collection of scanned historical documents available to the public.