Rehabilitation Guidelines 1986: Guideline for Residential Building Systems Inspection
Release Date:
October 1986 (164 pages)
Posted Date:
May 18, 2020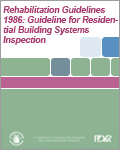 This historic publication is a reprint of the 1984 edition of a manual by the same name. Prepared by the National Institute of Building Sciences for HUD's Office of Policy Development and Research, the series of which this document is a part was written to fulfill the requirements of Section 903 of the Housing and Community Development Amendments adopted by Congress in 1978. This volume, the eleventh in a series, is written for use by builders, code officials, designers, and inspectors, and is a technical manual describing the process of evaluating the rehabilitation potential of an existing one- to four-family residential building.

This report is part of the collection of scanned historical documents available to the public.