HUD News Release: This is OPERATION BREAKTHROUGH
Release Date:
June 1969 (25 pages)
Posted Date:
January 27, 2021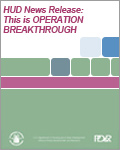 This collection of historic news releases pertains to HUD's demonstration project Operation Breakthrough, which launched in 1969 to test innovative building materials and methods in order to advance housing affordability. The experiment ran into the 1970s.

This report is part of the collection of scanned historical documents available to the public.