Equal Opportunity in Housing: A Bibliography of Research
Release Date:
September 1974 (44 pages)
Posted Date:
June 22, 2021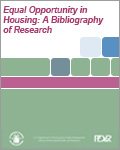 This historic publication is a revised edition of a 1969 bibliography and now includes primary and classic publications since 1968. The publication consists of 266 titles and was compiled by the U. S. Department of Housing and Urban Development Library at the request of the agency's Assistant Secretary for Equal Opportunity.

This report is part of the collection of scanned historical documents available to the public.