Improper Payment for Quality Control for Rental Subsidy Determination Study: FY 2015 Utility Allowance Comparison Study
Release Date:
August 31, 2016 (82 pages)
Posted Date:
March 15, 2018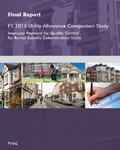 The housing assistance programs administered by the U.S. Department of Housing and Urban Development (HUD) provide for means-tested tenant subsidies, including Utility Allowances. HUD conducted a Utility Allowance Comparison (UAC) Study to measure the extent of utility allowance subsidy error, relative to actual tenant-paid utility expenses, in conjunction with a broader Quality Control study of errors in tenant subsidies. Additionally, the UAC study evaluated the accuracy and usefulness of the HUD Utility Schedule Model. The UAC provides national estimates of the dollars spent on allowances by housing providers and on utility expenses by households, and measures the extent to which these amounts differ. The national estimates provided in this report cover Fiscal Year 2015 for programs administered by the Office of Housing and the Office of Public and Indian Housing.

This report is part of the collection of Quality Control reports.