Hope VI Programs Application: Revitalization Program, Demolition Program
Release Date:
February 2000 (311 pages)
Posted Date:
February 10, 2021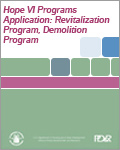 This document is a historic Super Notice of Funding Availability (SuperNOFA), a single notice announcing funding for 39 HUD grant programs and program components. The notice is followed by an application package for the Hope VI Revitalization and Demolition programs. The Hope VI Program, originally called the Urban Revitalization Demonstration, was adopted in 1993 to eradicate severely distressed public housing by making physical improvements, management improvements, and adding social and community services. Public housing authorities are eligible to apply for funds, which can be used for capital costs of major rehabilitations, new construction, demolition, acquisition of sites construction, or the adoption of community and supportive services programs for residents.

This report is part of the collection of scanned historical documents available to the public.