How Housing Allowances Work: Integrated Findings from the Experimental Housing Allowance Program
Release Date:
February 1978 (116 pages)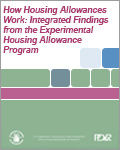 This paper describes HUD's Experimental Housing Allowance Program (EHAP) and its findings as of early 1978 for a general audience. The authors use available evidence from EHAP's three component experiments to address topics such as: how and why families participate in housing allowance programs; how families are assisted by such programs; how these programs effect housing markets and communities; and how much providing housing allowances and administering allowance programs costs. In addition to this review of current findings, the report includes a description of the background and scope of EHAP, a report on program operations, and an annotated bibliography of select research materials.

This report is part of the collection of scanned historical documents available to the public.