Jacksonville: Administering a Housing Allowance Program in a Difficult Environment
Release Date:
February 1977 (424 pages)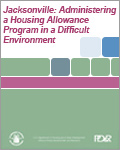 This publication is an analysis of the experience of the public agency in Jacksonville, Florida, tasked with administering a housing allowance program under HUD's Housing Allowance Administrative Agency Experiment (HAAAE). Because the Jacksonville agency's performance was notably poorer than the other seven participating agencies, HUD re-opened the housing allowance program enrollment period and commissioned two special studies of the program there to determine the source of the problems. The findings of the studies are relayed in this report. HAAAE was the third and final component of the Experimental Housing Allowance Program.

This report is part of the collection of scanned historical documents available to the public.