The American Forum of the Air: Should the Federal Government Support Public Housing Projects?
Release Date:
October 1945 (15 pages)
Posted Date:
July 2, 2020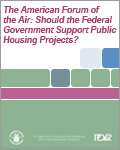 This historic document is a transcript of the October 23, 1945 episode of the radio show "The American Forum of the Air." Broadcast from the Shoreham Hotel in Washington, D.C., the topic of this episode was the affordable housing problem and the question of whether its solution should be a public or private matter. The episode was moderated by American Forum Director Theodore Granik and featured the following participants: U.S. Senator from Ohio Robert A. Taft; Commissioner Philip M. Klutznick of the Federal Public Housing Authority; President Joseph E. Merrion of the National Association of Home Builders; and President George L. Bliss of the Railroad Federal Savings and Loan Association.

This report is part of the collection of scanned historical documents available to the public.