Spatial Analysis of Choice Neighborhoods Initiative Planning Grant Applicants and Neighborhoods
Release Date:
June 2014 (81 Pages)
Posted Date:
July 10, 2014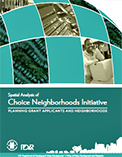 This report summarizes the findings of research on the first 3 years of the Choice Neighborhoods Initiative(Choice), a competitive grant program administered by the U.S. Department of Housing and Urban Development (HUD). Choice make funding available for local actors in cities across the United States to plan for and implement revitalization activities in high-­‐poverty neighborhoods containing severely distressed subsidized housing to transform them into sustainable, supportive mixed-­‐income neighborhoods. This research focuses on one component of Choice, the Planning Grants, and the neighborhoods identified by Choice Planning Grant applicants. The following section provides more information in general about Choice and specifically about the purpose and approach of this research.