An Analysis of Alternative Low-Income Rural Housing Systems
Release Date:
June 1973 (152 pages)
Posted Date:
January 8, 2021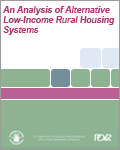 This historic study examines the housing authorities of several rural areas, outlines their problems, and analyses the approaches they use in lieu of public housing. Additionally, the report includes administrative and legislative recommendations, and proposes a model agency to more robustly address low-income housing in a rural context.

This report is part of the collection of scanned historical documents available to the public.