An Analysis of Rural Repair and Rehabilitation Programs
Release Date:
June 1973 (129 pages)
Posted Date:
June 22, 2018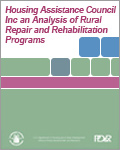 This report, prepared for the Housing Policy Task Force III of the Department of Housing and Urban Development, describes a study on rural rehabilitation needs, gaps, and future prospects. The authors make six policy-based and seven program-based recommendations for the alleviation of rural housing problems.

This report is part of the collection of scanned historical documents available to the public.