Evaluation of the Rural Innovation Fund
Release Date:
January 2017 (82 pages)
Posted Date:
February 16, 2017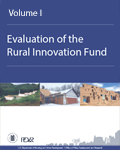 The Rural Innovation Fund (RIF) is a flexible program that Congress authorized and funded for only one year. During FY 2010, RIF provided 51 grants of varying sizes and types to tribal and rural organizations for addressing concentrated rural housing distress and community poverty. The evaluation describes RIF relative to its predecessor program, Rural Housing and Economic development (RHED), and examines RIF leveraging and grant impacts. Both the RIF and the RHED program have given special attention to rural and underserved, high-needs areas such as Native American communities, the lower Mississippi Delta, Appalachian Regional Commission distressed counties, and the colonias and farmworker communities. The data show that relative to RHED, RIF favored tribal applicants more, which contributed to a lower rate of leveraging private funds. There is little evidence that the larger grants available through RIF produced economies of scale for increased impact.
Click here to download the Evaluation of the Rural Innovation Fund
Click here to download the Evaluation of the Rural Innovation Fund: Appendixes
Click here to download the Evaluation of the Rural Innovation Fund: Data Documentation Report