HUD News Release: HUD Issues 12th Summary of Postal Vacancy Surveys
Release Date:
March 1970 (14 pages)
Posted Date:
February 3, 2021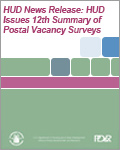 This historic news release announces the 12th release of a post office vacancy survey data summary. This release is based off of surveys made from July through December 1969, covering 62 cities and metropolitan areas. The results of the surveys are summarized in a table attached to the news release.

This report is part of the collection of scanned historical documents available to the public.