Understanding Whom the LIHTC Serves: Data on Tenants in LIHTC Units as of December 31, 2015
Release Date:
March 2018 (27 pages)
Posted Date:
March 19, 2018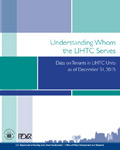 This report summarizes data received from the state housing finance agencies (HFAs) that administer the Low Income Housing Tax Credit. The HFAs are required by the Housing and Economic Recovery Act (HERA) of 2008 to submit certain demographic and economic information on tenants in LIHTC units to the U.S. Department of Housing and Urban Development (HUD). HERA specifically requires HFAs to submit to HUD information concerning race, ethnicity, family composition, age, income, use of rental assistance, disability status, and monthly rental payments of households residing in LIHTC properties. The report summarizes the required data.

This report is part of the collection of Low-Income Housing Tax Credits reports.
Click here to access the latest report in this series.