Market Intermediaries and Indirect Suppliers: Reconnaissance and Research Design for Site II
Release Date:
May 1975 (63 pages)
Posted Date:
April 29, 2021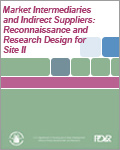 This historic working note describes preliminary research about housing-related industries in St. Joseph County, Indiana, and future plans for gathering additional data. St. Joseph County was Site II of HUD's Housing Assistance Supply Experiment (HASE), a program that tested the market impact of providing housing allowances to low-income households with domiciles meeting minimum standards of decency.

This report is part of the collection of scanned historical documents available to the public.