A Discussion of the Fundamental Factors Involved In Selecting Sites for USHA-Aided Projects
Release Date:
February 1939 (23 pages)
Posted Date:
July 9, 2019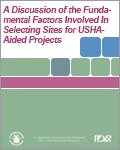 This historic document addresses factors involved in selecting sites for housing projects receiving assistance from the U.S. Housing Authority. The document, which was intended for use by local housing authority officials, discusses considerations including zoning, presence of natural boundaries, costs of utility installation, and more.

This report is part of the collection of scanned historical documents available to the public.