Working Papers No. 3 and 4 United Nations (Housing Committee)
Release Date:
April 1956 (415 pages)
Posted Date:
June 16, 2020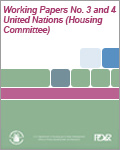 This historic document, prepared by the Secretariat of the Economic Commission for Europe's Housing Committee, addresses the decisions and proceedings of the committee's Working Party on Housing and Building Statistic.

This report is part of the collection of scanned historical documents available to the public.