The Center of Our Society—The American City
Release Date:
August 1966 (6 pages)
Posted Date:
October 1, 2019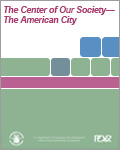 This historic publication is a record of remarks made by then-President Lyndon B. Johnson in Syracuse, New York. President Johnson discussed the import and centrality of urban spaces to American life, and commented on the need to undertake reforms to solve the nation's domestic problems. Johnson further outlined four steps that his administration planned to take in order to address urban problems.

This report is part of the collection of scanned historical documents available to the public.