Homes Use Guide
Release Date:
November 1943 (153 pages)
Posted Date:
February 21, 2018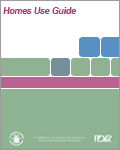 This historical publication is a National Housing Agency reference and training manual, for use by the staff of local War Housing Centers during World War II. The manual discusses the entities and programs associated with the war housing effort, and provides instructions for establishing and running a War Housing Center.

This report is part of the collection of scanned historical documents available to the public.