Housing Allowance Administrative Agency Experiment – Summer Policy Studies Report: Specification of a General Rent Survey Procedure for Estimating the Cost of Minimum Standard Housing
Release Date:
December 1974 (16 pages)
Posted Date:
April 22, 2021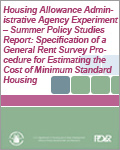 This historic report, published as part of the third and final component of HUD's Experimental Housing Allowance Program, presents a means of applying a questionnaire with certain screening questions to a representative sample of renter households in a given housing market, in order to generate an estimate of the cost of minimum standard housing. The cost of minimum standard housing — frequently represented as C* — is loosely defined in this report as the monthly housing expenses necessary for a family to obtain housing services that are basically adequate and decent.

This report is part of the collection of scanned historical documents available to the public.