Housing and Home Improvement in the Caribbean
Release Date:
June 1962 (118 pages)
Posted Date:
September 13, 2018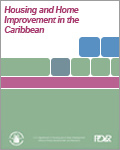 This historical document, published by the Food and Agriculture Organization of the United Nations and the Caribbean Commission, is the second in a series of booklets on home economics published in the Caribbean. The booklet discusses home construction, housekeeping, furnishings, and home improvement projects, and was intended for use by extension office workers or teachers instructing adult groups.

This report is part of the collection of scanned historical documents available to the public.