Operation and Repair of Heating Systems: Care of Boilers Out of Service
Release Date:
November 1950 (5 pages)
Posted Date:
June 23, 2020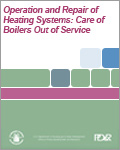 This historic bulletin, part of a series of operations engineering bulletins, provides instruction regarding the care of heating system boilers while such units are out of service. The publication addresses water-tube, fire-tube, and cast-iron-sectional boilers, and discusses procedure for removing such units from service, cleaning out-of-service units, and preventing corrosion and other damage.

This report is part of the collection of scanned historical documents available to the public.