Report on Emerging Resident Management Corporations in Public Housing
Release Date:
January 1993 (70 pages)
Posted Date:
July 23, 2021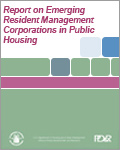 This historic publication describes the progress of 80 emerging resident management corporations (RMCs) that received technical assistance grants from the U.S. Department of Housing and Urban Development between 1988 and 1990. The report's objectives were to describe emerging RMCs and their activities under the program, to evaluate the progress emerging RMCs are making toward the goal of resident management, and to identify factors that affect progress of emerging RMCs and to highlight their policy implications.

This report is part of the collection of scanned historical documents available to the public.