State Housing Finance Authorities
Release Date:
October 1970 (81 pages)
Posted Date:
January 27, 2021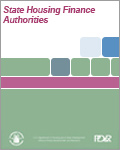 This historic document, prepared for HUD's Office of Metropolitan Planning and Development by the Office of Small Town Services and Intergovernmental Relations, discusses the then-novel approach of establishing state housing finance agencies to assist communities in meeting affordable housing needs. By the end of 1969, at least 13 states had authorized housing finance agencies or other financial mechanisms to provide state aid for housing.

This report is part of the collection of scanned historical documents available to the public.