The Economics of Rental Housing
Release Date:
September 1982 (148 pages)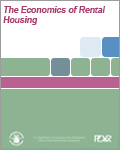 This historic study analyzes the economics of owning and operating rental property. The author utilizes data gathered from 1973 – 1977 in Brown County, Wisconsin and St. Joseph County, Indiana as part of the Housing Assistance Supply Experiment (HASE) to describe how market conditions impact property revenues and expenses. The report is especially concerned with the impact of energy and fuel costs on landlords and tenants. HASE was the second component of HUD's Experimental Housing Allowance Program.

This report is part of the collection of scanned historical documents available to the public.